There are many ways to brew a great cup of coffee but the French press is a classic.  As a matter of fact, the French press is a favorite among many die hard coffee aficionados who claim it is the only method to extract the best flavor from your beans. But what coffee should you buy for a French press? 
Quick and convenient, pre-ground coffee beans are the go to option for many coffee drinkers.  They are an especially great choice if you don't own a coffee grinder.  While your coffee will always be better when it is brewed with freshly ground beans, there are a number of pre-ground options that are still high quality.  
So, what is the best ground coffee for French press brewing?  We have taken a look at a number of different coffees so you can choose the best ground coffee for your French press. 
Our Top Picks
What makes French press coffee better than other brewing methods?
We all know that some of the best tasting foods are delicious because of the fats and oils they contain.  Coffee is also loaded with essential oils that greatly contribute to its flavor and aroma. 
When using a traditional brewing method such as a drip coffee maker, percolator, or even the pour over method, it is necessary to use a filter to prevent coffee grounds from making their way into your cup. While necessary for these brewing methods, the filters also soak up the majority of the oils that contribute to the coffee's flavor. 
French press brewing does away with this problem by eliminating the filter and instead, steeping the beans directly in water. Steeping allows the oils to remain intact, making your morning (or afternoon) cup all the more flavorful and aromatic. 
Best Ground Coffee for French Press
This dark roast blend has a coarser grind size, making it a perfect ground coffee for French press brewing. Made from 100% Arabica beans, it produces a full-bodied coffee with a smooth flavor with no bitter undertones. 
This brew has a lighter flavor that some coffee drinkers may find a bit too subtle, but it is a great blend for French press beginners who prefer a light to medium roast drip coffee. 
The grounds are packaged in a bag featuring a one-way valve on the front of the bag for safe degassing.  The bag has a side fold and closes with ties which is not the best storage option. We recommend you transfer the coffee to an airtight container after opening to preserve optimal freshness. 
For coffee lovers who appreciate a well-balanced taste profile and coffee that is both freshly roasted in small batches and ethically sourced, Stone Street Coffee is one you must try.
While this product is labeled for Cold Brew, its Coarse grind size makes it one of the best ground coffees for French press brewing as well. 
Made from 100% Arabica beans, this single-origin Colombian Supremo features bold, uet slightly sweet notes with low acidity for a smooth and balanced flavor.  When brewed in a French press, delicate notes of fruit, chocolate, and caramel are brought to the forefront. 
The packaging is a resealable doypack that has a one-way valve to aid in degassing while maintaining freshness. 
It is available in both a one pound option as well as a five pound bulk size.  We suggest the one pound bag to make sure your coffee always tastes fresh but if you prefer to buy in bulk, be sure to store extra coffee in an airtight container in the freezer. 
Roasted in Italy, this medium roast coffee made from 100% Arabica beans is a great ground coffee for French press brewing.
Illy coffee uses a medium grind and has a balanced flavor with notes of caramel and chocolate.
Its innovative packaging prevents flavor loss that usually occurs in tin packaging.  Nitrogen is also packed into the tin to flush out the oxygen and preserve the coffee's natural aroma.  Finally, the packaging process is conducted in a pressurized, air-free setting that protects the coffee from staling and ensures it arrives at your doorstep with the freshest flavor possible. 
The coarse grind of Ceremony Coffee Roasters ground coffee is designed specifically for French press brewing.  
Their Synthesis House Blend is a medium-light roast is crafted in Annapolis, Maryland using Arabica beans sourced from Brazil and Peru. 
The rich flavor profile of caramel, vanilla, and spice produces a lighter tasting coffee with notable acidity.  While the flavor may be a bit light for some, it is a great starter coffee for French press beginners.  
The only downside to this flavorful, chocolate chip cookie like coffee, is its packaging.  The side fold style bag with tin tie closure does not maintain freshness once opened.  We  recommend transferring it to an airtight container after opening. 
This Guatemalan dark roast is designed for espresso but is perfect for a french press too.  Roasted in small batches, it is surprisingly dry, lacking the rich, sticky oil that typically coats dark roasted beans. 
This smooth blend has a rich and complex, yet well balanced flavor with notes of fruit and wood.  This coffee may be a bit overpowering for your morning brew but it makes a perfect pairing for dessert.  Its rich and bold flavor perfectly complements sweet and creamy foods. 
The coffee is packaged immediately after roasting and comes with a de-gassing valve to maintain freshness.
Ethiopia is one of the original birthplaces of coffee and to this day, it produces some of the most unique coffee flavors in existence. Ethopian Yirgacheffee coffee is unusual because the bulk of the coffee crop is harvested from wild coffee trees rather than conventionally grown plants. 
Ethopian coffees tend to have distinctively floral and fruity tones with blueberry being prominent in some of their best beans. 
Volcanica's Ethiopian Yirgacheffee is a medium roasted coffee that tastes of dark chocolate, floral notes reminiscent of lavender, aromatic cedar and cinnamon, with strawberry undertones. It is roundly sweet in structure with a gentle and pleasing bitter edge.  
The roast may be a bit light for some but the flavor and aromatic notes bloom wonderfully in French press brewing.
Mystic Monk coffee is roasted in a Wyoming monastery by actual monks.  A small group of Carmelite Monks were looking for a way to support their growing community and after much discernment and prayer, Mystic Monk Coffee was born.  The first samples were roasted in a cast-iron skillet in the monastery kitchen in 2007 and the coffee business has grown ever since. 
Developed over 6 years and released in celebration of Mystic Monk Coffee's 10th anniversary, the Paradisio Blend is made from medium roasted Arabica beans using beams from all over the world.  The flavor is vibrant and balanced with a smooth finish.  Flavor notes of hazelnut-like nuttiness, sweet orange zest, and  raisin like fruitiness are balanced out with a smooth chocolaty finish. French press brewing is perfect for bringing forth the flavor complexity this coffee offers. 
Dallmayer Prodomo is produced in Germany from 100% Arabica beans from Ethiopia. 
This medium roast coffee produces a smooth and rich, full bodied coffee with low acidity and little bitterness.  As a matter of fact, Dallmayr Prodomo coffee is specially processed to remove any irritants and bitterness while still retaining its full measure of caffeine.  
The medium coarse grounds are the ideal size for french press brewing but occasionally a few smaller grounds will make their way into the brew. 
The coffee is vacuum sealed to maintain freshness during transportation but once the bag is opened, there is no way to reseal it.  We recommend transferring the coffee to an airtight storage container once opened for optimal freshness in every cup. 
Based in San Francisco, California, Peet's has been producing great coffee since 1966. Peet's Coffee is dedicated to providing the freshest and fullest flavor in each and every cup.  They roast all of their beans by hand and every order is tested for quality control before being bagged and shipped out.  Each bag is also marked with a roast date so you know you are getting the freshest coffee every time. 
The Dickason's Blend is a dark roasted coffee with a complex flavor.  The coffee is smoky and full bodied with a smooth finish and notes of spice. It is perfect for French press brewing. 
All of Peet's Coffee only uses the highest quality coffee beans, which are all grown and sourced responsibly, ensuring the farmers that grow and harvest the beans are treated fairly.
Bulletproof Coffee is one of the cleanest coffees on the market.  Their beans are ethically sourced from Central America, and carefully selected from organic estates that use absolutely no chemicals in their growing process. Bulletproof has also developed a technique that minimizes toxins that are found in coffee beans. 
Each bean is hand picked before roasting, and each roast batch undergoes lab testing to ensure the coffee meets their high quality standards. 
French Kick is a premium dark roast blend with a medium body.  Perfect for French press, its smooth and sweet yet smoky taste is complemented with chocolatey overtones.  
If you prefer a lighter roast, Starbucks' Veranda blend may be the best ground coffee for French press brewing.  
Many ask the question: Is Starbucks ground coffee good for a French press?  And the answer is a resounding YES.  Afterall, it took them over 80 tries to get their Veranda Blend just right. 
This blend is a crowd pleaser and perfect for sitting outside on the veranda with an afternoon cup.  Being a blonde roast, it is considerably more mellow than most coffees.  This light and approachable flavor allows you to fully appreciate its soft cocoa notes with a touch of lightly toasted nuts. 
Death Wish prides themselves on being the producer of the world's strangers coffee and each cup has double the amount of caffeine you will find in a regular cup.
This dark roast coffee is made with Arabica and Robusta beans to offer a rich, strong brew to start your day.  The addition of Robusta beans gives this coffee a caffeine boost while the slow roasting process produces a smooth, dark brew without the bitterness. Notes of cherry and chocolate finish off its delicate flavor which is perfect for French press. 
Small batch roasting of no more than 65 pounds of beans per batch, ensures quality and consistency, ensuring each bag is shipped at the optimal freshness.   
As an added bonus, Death Wish Coffee is USDA Certified Organic and Fair Trade making it an excellent choice for the eco-conscious. 
Whole Bean Coffee Options
French press coffee is great with these ground coffee options but it is even better if you sue freshly ground beans. If you decide you want to take your coffee brewing to the next level and purchase a grinder, we suggest you try one of these whole bean coffees. 
This artisanal coffee sourced from the Huila region in Colombia is made from non-GMO 100% Arabica beans.  
It has a smooth taste that is overall lower in acidity. The dark roast profile of the beans is a result of the second crack in the roasting process. The roaster cools them very quickly after reaching their ideal roast temperature to create a more flavorful profile.
The flavor has a full body that is smooth and creamy.  You will taste chocolate and caramel with  bright notes of Cinnamon.  The coffee is bold without being bitter and works exceptionally well with French press brewing.
Each bag is marked with the roast date and all bags are packaged and shipped within hours of roasting to make sure you get the freshest possible coffee. The packaging however, doesn't reseal very well, so we recommend transferring it to an airtight container for storage.
Made with Arabica beans that are shade grown high in the Nicaraguan Mountains, Lifeboost Coffee is one of the healthiest coffees on the market.  Lifeboost makes sure the beans they use are grown without pesticides or chemicals and are certified organic.
The premium beans are hand selected and hand washed before being sun dried to remove excess moisture.  They are then roasted carefully to a balanced medium roast.  
Smooth and earthy with a full body, low acidity, and lingering aromas of chocolate, nuts, and strawberry, the complex flavor is perfect for French press brewing. 
Not only does this coffee taste good, you can also feel good about drinking it.  Lifeboost coffee is fairly traded and a portion of their profits are donated to protect the environment and rainforest preservation. 
Why is the French press so popular?
Coffee aficionados around the globe are obsessed with French press coffee, and for good reason.  Brewing in a French press preserves the essential oils and fats that are often absorbed by the filters used in other coffee brewing methods. These oils provide the majority of the flavor and aroma of the coffee and create a more complex tasting cup.
Coffee lovers also appreciate the simplicity of a french press. Grind the beans, add hot water, wait, and press for a great cup.  And let's face it, French press brewers are also sleek looking, timeless, take up very little counter space, and will fit into any kitchen.
What equipment do I need to make French press coffee?
French press coffee is very simple to make and you really only need one piece of gear, a French press.  That said, having a burr grinder and a kettle with a thermometer will make the brewing process go even smoother but are not necessarily required. 
Choosing a Good French Press
When selecting a French press to brew your coffee, you need to consider several factors such as build materials, size, and brand quality.
Build Materials
You can purchase a French press pretty much anywhere but it is important to know that all French presses are not created equal.  They can vary greatly in materials from stainless steel and glass to plastic. We suggest sticking to stainless steel or glass.  These materials are not outrageously priced but a considerable step up from plastic.
Size
If you are planning on using a French press as your everyday coffee maker, you need to consider how many coffee drinkers you have in the family. A smaller press will suffice for one person but if you have several coffee drinkers, you may consider purchasing a larger one. 
Brand Quality and Price
As with any purchase, there are considerable price differences between different brands.  Consider brand reputation when shopping for a French press.  You certainly don't need to purchase the most expensive press you can find but we don't recommend purchasing the cheapest either. At best, it might work well for a short time before having issues such as grinds leaking into the coffee. 
Getting the most out of your French press
Since your French press uses a stainless steel mesh filter to press the coffee grounds to the bottom, more of the oils and some solids from the coffee beans end up in each cup.  Some coffee drinkers love this thicker coffee but others find it to be a bit muddy.  
There are ways to minimize the "mud" that makes its way into each cup but there is no way to alleviate it completely.  
Grind Size 
A common question beginners often ask is: What type of coffee grind is best for French press coffee? The optimal ground coffee for French press is a coarsely ground coffee.  A coarser grind reduces the number of small particles that can work their way through the mesh filter.  This coarser grind also makes the coffee sweeter and less bitter overall. 
French press brewing uses an immersion method in which the beans are steeped in the hot water.  This steeping means the coffee has a longer extraction period.  The coarser grind helps prevent over extraction which can lead to a bitter brew. 
Best Roast Type for French Press
Most French press coffee lovers typically prefer a medium or dark roast.  Since the immersion brewing method reduces the perceived bitterness, dark roasts are more palatable to coffee drinkers who would otherwise prefer a lighter brew.  That said, the type of roast you prefer largely depends on personal preference. 
The duration and temperature at which the beans are roasted will significantly impact the flavor of your coffee, so let's look at the roast types in order of increasing time and temperature. 
Light Roast – Light, or Blonde roasts are usually light brown in color and will brew a more acidic coffee with a light body and flavor. The beans will appear to be dry with no oil on the surface. Light roast beans are common with everyday coffee but usually are not the best for French press brewing due to its subtle flavor.
Medium Roast – Similar to a light roast coffee bean, medium roasted beans are also dry with very little to no oil on the surface. The flavor however, typically has more body and the coffee tastes smoother and more balanced over all, and the beans are a medium brown in color. When beans are roasted to a medium level, the uniqueness of their flavor is preserved bringing out notes of caramel and a general sweetness. Medium roast beans are some of the best for French press brewing. 
Medium-dark Rost – . These beans are darker in color and heavier in body. They have a noticeable oily surface and their flavor is characterized by notes of spice.  The coffee brewed from medium-dark roasted beans has a balanced taste with lower overall acidity.  Like medium roast beans, medium-dark roasts are great for French press brewing, which brings out their floral and chocolatey notes. 
Dark Roast – Dark roast beans are very dark brown in color and can sometimes even look black.  These beans have a very shiny and oily surface and the lowest acidity levels. Coffee brewed with dark roast beans has a full bodied and robust flavor with smoky and bitter notes. Dark roast coffee is perfect for espresso but they are not our favorite when it comes to French press brewing.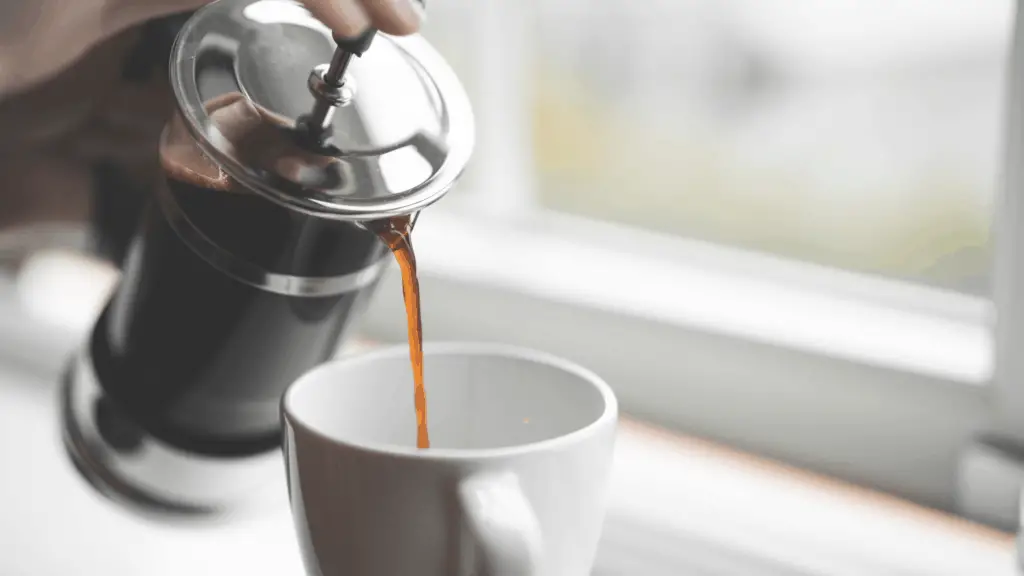 How to Brew French Press Coffee 
The key to a great French press coffee is paying careful attention to detail.
First, heat your water to 205℉.  Using a kettle with a thermometer will ensure your water is at the ideal temperature for brewing. 
Add fresh coffee ground at a coarse grind. Freshly ground coffee beans are best but if using pre-ground coffee, make sure it is as fresh as possible. Use a 10 to 1 ratio so if you want 20 ounces of coffee use 2 ounces of grounds. 
Add a small pinch of salt to enhance the coffee's flavor.
Slowly pour hot, but not boiling water over the ground coffee and allow it to bloom for 30 seconds. 
Attach the lid and allow the brew to steep for 4 minutes to ensure proper extraction.
Slowly press the plunger using a firm but gentle pressure to separate the grounds from the freshly brewed coffee. 
Pro Tips
Make sure your French press is clean with no left over debris from previous brewing.  
Use filtered water for the best tasting coffee
How To Avoid Disaster 
One reason many coffee lovers prefer the French press brewing method is because the process allows you to easily customize your brew.  The amount of grounds you use and the length of steeping time is completely under your control.  While the process is quite simple, precision is of the utmost importance.  Let's look at a few common errors that can lead to disaster. 
Using the Wrong Amount of Ground Coffee
A common error made by beginner brewers is to get the coffee grounds to water ratio wrong.  Using too little coffee will create a watery tasting brew no matter how long you steep the beans.  On the other hand, using too much coffee results in a strong brew that can be overbearing in flavor and leave you feeling jittery all day. 
Beginners should always start with a 1:10 coffee to water ratio.  Use one ounce of coffee for every 10 ounces of water to produce a great mid-strength brew that will please most coffee drinkers. After your first few brews, you can adjust the ratio slightly to suit your taste. 
Over Extracting the Coffee
Over extraction is one of the most common ways a beginner barista can completely destroy a brew.  If you leave the coffee in the french press, it will continue to brew in the hot water, resulting in a bitter, unpleasant tasting brew. If you can't drink your French pressed coffee immediately after brewing, transfer it to a thermos or carafe to preserve it's flavor.
Pro tip – warming your cup before pouring your coffee will help the coffee stay hot!
Poor Grind Quality
French press brewing requires a medium to coarse grind of coffee.  If you use too fine a grind, it will not press down properly and the result will be a muddy tasting coffee and a mouthful of gritty tasting grounds. 
FAQ
Is French press coffee worth it?  It seems like a lot of work.
While brewing in a french press is not as easy as scooping grounds into a coffee maker and letting it do all the work for you, the resulting richly aromatic coffee and full bodied brew is 100% worth the effort in our opinion. 
Can you use regular ground coffee for French press?
Technically, yes.  You can use regular ground coffee but we suggest selecting one with a coarser grind size like the ones mentioned above. 
Should there be grounds in my coffee mug?
A small amount of coffee grounds in your coffee is fine and perfectly normal. 
Unfortunatley you cannot avoid a ground or two in French press coffee.  In a perfect world, each coffee ground would be the exact same size and large enough to not go through the filter but even with the best burr grinder there will be some inconsistency. 
Should I pour all of the coffee out of the French press?
Absolutely!  Even though the grounds are pressed to the bottom, they are still interacting with the water and continuing to brew.  Leaving coffee in your press will result in over extraction and a bitter tasting brew. 
What size French press should I buy?
It depends on how much coffee you typically drink in a given time. Keep in mind that French presses are typically measured in cups.  But a cup is not necessarily a cup.  A French press "cup" is typically measured in European sized cups that are around 4 ounces.
Final Verdict
French press brewing is a simple yet delectable way to brew a great cup of coffee.  While freshly ground coffee is always going to be better, there are a number of quality pre-ground coffees out there that will do the job and do it well.  
The best ground coffee for French press brewing is really a matter of taste and hopefully we have given you a little something for everyone. 
Other articles you may be interested in: