This site uses affiliate links to support our great content.  At no cost to you, we may receive a small commission when you purchase through one of our links.
Single serve coffee makers have taken over kitchens, offices, and college dorm rooms throughout the United States and it is easy to see why.  You simply pop in a coffee pod or capsule and let the machine do the work for you.  
With the popularity of the Keurig coffee maker, company after company started packaging their coffee into K-cups to take advantage of this new trend and while your choices were once limited, now you can find a K-cup to suit even the most picky coffee connoisseur.
Many people who visit Hawaii and experience Kona coffee for the first time can't wait to bring that flavor back to the mainland but for a long time, that meant coffee beans or bagged coffee, but thanks to the popularity of the Keurig machines, now you can have you Kona coffee and drink it too!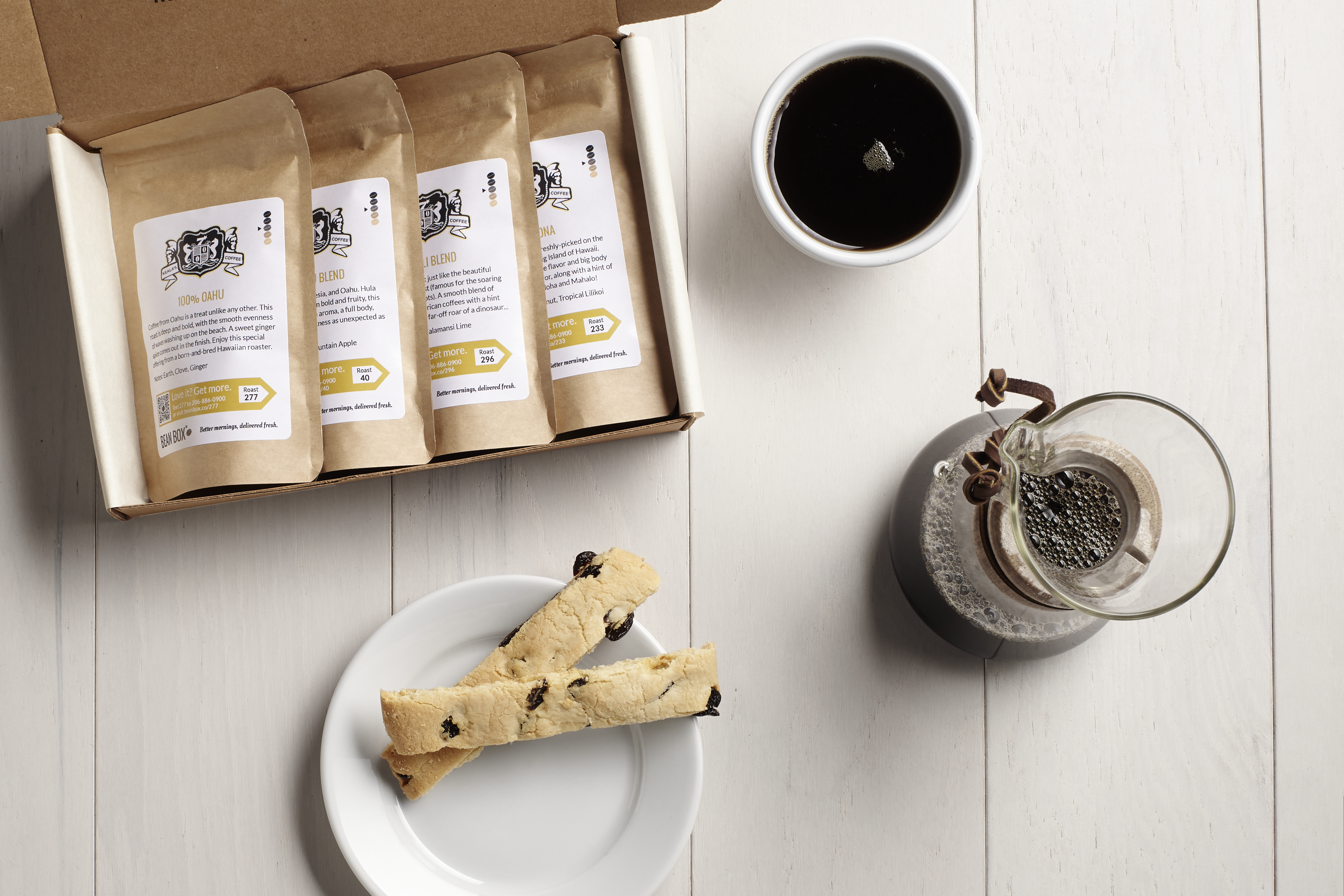 Bean Box Hawaiian Coffee Sampler
But what are the best Kona coffee K-cups?  Well, that depends on your personal preference.  We have reviewed a number of coffees to allow you to look at the flavor profiles of each brand and pick one...or a few to try.  So read on and we know you will find the best Kona coffee K-cup to suit your palate.
Best 100% Kona Coffee K-cups
Pros
Compatible with Keurig 2.0 
Strong and smooth flavor
Each single serve pod of Blue Horse contains 100% ground Kona coffee beans grown on a small family farm in the Kona region of Hawaii.  The coffee cherries are grown using pesticide-free growing methods and then hand-picked on the Blue Horse Kona Coffee Farm. After hand-picking, the coffee beans are washed with rainwater, and then allowed to sun-dry before being roasted to a full city roast.  
The flavor is the perfect blend of bitter and sweet and the aroma complex and chocolaty with hints of vanilla and almond that offers a sweetness that lingers. 
Blue Horse Kona Coffee is made strictly following the quality standards set by the Hawaiin government and their K-cups, while not affiliated with the Keurig company, are compatible with the Keurig 2.0
Pros
Compatible with Keurig 2.0
Great aroma
Fresh roasted to order
Cons
Taste can be a bit bitter
Pricey
This 100% Kona coffee combines 50% dark roasted Kona #1grade beans with 50% medium roasted Kona Fancy grade beans to create a balanced medium to full bodied coffee that is incredibly aromatic with mild acidity and bright flavor characteristics. 
This coffee is certified 100% Kona by the state of Hawaii and all of the beans are selectively hand-picked and wet-processed by dedicated farmers on small estates across the Kona region. Each order is roasted and packaged immediately prior to shipping to ensure the freshest cup possible.
Pros
Compatible with Keurig 2.0
Pesticide-Free
#5 recyclable plastic cups
Cons
Not as good as fresh ground 
Expensive
Hualalai Estate K-cups are filled with 100% Kona coffee that is grown on the slopes of Kona's Hualalai Volcano and roasted in small batches to ensure ultimate freshness.  Each cup packs 11 grams of pure kona coffee into a recyclable K-cup.
This medium-dark roast Kona coffee produces a full flavored brew with little to no bitterness making it the perfect brew to enjoy anytime of day.
Pros
Compatible with Keurig 2.0
Great Price
Cons
Bland flavor compared to more expensive Kona coffees
If you are looking for a certified 100% Kona coffee k-cup that doesn't break the bank, Kona Bean Company may be for you.  The minerals in the rich volcanic soil combined with the perfect growing conditions of the Kona region contribute to the quality and flavor of the beans in this milder roast coffee.
This company takes pride in hand-picking and grading the sustainably harvested coffee beans from their farm before roasting. The coffee is then packaged in recyclable capsules before shipping out.
Pros
Compatible with multiple coffee pod brewers
Full bodied flavor
Cons
Must use the Aloha Island My Pod-Cup Adapter
Finely ground coffee can leave sediment in the coffee
The 100% Kona coffee from Aloha Islands Coffee is rich, full-bodied, and smooth roast with a well-rounded Kona flavor profile.  Each cup is delicate, mild, and has the slightest hint of sweetness that makes Kona coffee unique.  
This variety pack offers several different roasts from theri premium line Kona Magnum Opus and is compatible with a number of different coffee pod machines, including Senseo, Cuisinart, and Bunn.  They can be used in Keurig coffee makers as well but you will need to purchase the Aloha Island My Pod-Cup Adapter.
Pros
Compatible with Keurig 2.0
Fully compostable coffee pod
Certified Kosher
Cons
Kona flavor is a bit mild
The unique climate and rich volcanic soil from the Kona region create growing conditions that deliver a flavor that is uniquely Kona.  San Francisco Bay uses 100% Extra Fancy grade Kona to fill each cup with notes of creamy milk chocolate, macadamia, and dark cherry.
San Francisco Bay is a family owned company that uses only 100% Arabica coffee and makes sure to package their fully compostable OnCup pods immediately after roasting to ensure freshness. 
Best Kona Blends
Pros
Gluten free
Kosher certified
Cons
Only contains 10% Kona coffee
Not compatible with Keurig Vue model
This Kona blend is a favorite among coffee fans.  Hawaiian Isles Kona blends Kona coffee beans grown on the Kona Coast with the finest arabica beans from around the world to bring you a gourmet Kona flavor at a fraction of the price.  
This locally owned family coffee roaster ensures the freshest Kona blend by roasting the coffee daily on the Island of Oahu, producing a smooth and unique taste that will please even the most particular palate.
Pros
Compatible with Keurig 2.0
Great Price
Kosher Certified
Cons
Light on Kona flavor
Grounds can get into coffee
Caza Trail Kona Blend combines coffee selected from Kona Moku on the Big Island of Hawaii with coffee from Latin America to create a coffee with a delicate body and vibrant acidity.  The soft and sweet aroma is reminiscent of the tropical floral scent of the island and the strong flavor notes of nuttiness and creaminess blend together to form a great tasting cup of coffee on the go.
The cups themselves are 97% biodegradable and are made with "freedom clips" which allow them to be used on all Keurig brewers, even the 2.0 models.
Pros
Compatible with Keurig 2.0
Pods are 100% recyclable
Cons
Plastic cups aren't as strong as some
Grounds can get into the coffee
Maud's Kona Coast blend is a medium roast coffee, made from 100% Arabica beans. It's smooth, heavy body combines with chocolatey and nutty undertones to create a well balanced flavor profile that is low in acidity. 
Maud's coffee pods are compatible with all Keurig coffee makers (including 2.0 machines) making them a convenient option for a busy coffee drinker looking for a quick cup of coffee reminiscent of the big island on the go.
Pros
Compatible with all Keurig models
Kosher Certified
Cons
Occasionally need to shake the cup to get it to work in Keurig 2.0 models
If you are looking for a taste of the Hawaiian islands, Don Francisco's Kona Blend is definitely worth considering.   This very flavorful yest smooth blend offers a delicate floral aroma with subtle fruity notes, and a hit of nuttiness to take you back to the islands.
While this coffee contains only 10% Kona coffee, it is a great budget alternative to those seeking coffee with a subtle Kona flavor.
What is Kona coffee?
Kona Coffee describes the coffee beans grown on the slopes of Hualalai, in the Kona district of the Island of Hawaii.  The small area, sometimes called the Kona Coffee Belt, is small.  While it only stretches along 30 miles of coastline, it produces amazing coffee beans and produces cup after cup of world-class coffee.  
Kona coffee is grown from Guatemalan Typica, also known as "Kona Typica" and is a high quality variety of Arabica coffee.  The high elevation of the area, rich volcanic soil, cloud coverage and perfect temperatures make the Kona region the ideal place to grow coffee beans that produce a flawless brew.
What's so special about Kona coffee?
There are many tropical places (including other parts of Hawaii) that produce wonderful coffee, but what makes Kona coffee so special is the unique microclimate of the Kona region.  
It is located on the western slope of a volcano at about 1,000 to 3,500 feet above sea level and its unique microclimate is ideal for growing the perfect coffee beans.  Perfect tropical temperatures combined with morning sun mixed with afternoon clouds and showers on rich, well-drained volcanic soil provides a magical blend of conditions for growing delicious coffee.
Hawaii's has a rich history of coffee farming, and the coveted Kona coffee is its prized jewel.  The coffee is so highly- regarded that the state even has laws in place to ensure customers buying 100% Kona coffee are getting the real deal!
What to look for in Kona coffee
If you are looking to indulge in a fragrant cup of Kona coffee, you need to keep a few things in mind if you want to get the most authentic Kona coffee flavor.  
Only purchase coffee labeled 100% Kona coffee.  Blends can have as little as 10% real Kona coffee and still label themselves as a Kona blend.  
Splurge on the coffees labeled 100% Estate-Grown or Single-Soured Kona Coffee.  While these coffees tend to be more expensive, these labels mean all of the coffee beans were grown, sorted, and roasted on the same farm, which means that they will also have the purest Kona coffee flavor profile.
If you really want to indulge, look for 100% Peaberry Kona Coffee.  It is made from a special coffee bean that only makes up a fraction of the total coffee harvest and is one of the rarest coffees in the world. You can think of it as the "champagne" of coffee.
What does Kona coffee taste like?
The best Kona coffees have a unique flavor profile and aroma that put Kona on the world coffee map.  Coffee grown in the Kona region is generally described as bright, crisp, and clean. It has hints of brown sugar, milk chocolate, honey, and a hit of bright fruit flavor.  Expect a very pleasant aftertaste to linger on the palate, with hints of nuts and citrus.
The aroma is a unique mix of sweetness reminiscent of caramel, butter, cocoa and fruit.  The aroma combined with the flavor and aftertaste are what make Kona coffee so unique, addictive, and coveted. 
The Kona industry and its Scandal
The history of Kona coffee began in the 1800s and its gourmet beans have grown popular ever since.  Unfortunately, when you have a popular product, you also have many opportunists hoping to make a quick buck. 
Between 1993 – 1996, the Kona Kai scandal shook the coffee world and had a dramatic affect on the Kona name.  A coffee supplier named Michael Norton began selling cheap, substandard, American coffee bagged and labeled as "100% Pure Hawaii Kona."  
So, how do you tell which coffee is real and which is a scam?   Thanks to the work of food scientist Joseph Rivera, who created a method of verifying the origin of a coffee bean, it is now mandatory for all green coffee that is being exported from Hawaii be tested for origin.  Any exported coffee must be certified by the State of Hawaii Department of Agriculture before shipping out.
Why is 100 Kona coffee so expensive?
Similar to champagne, Kona coffee refers to coffee grown in a specific region of Hawaii.  The region, not being very large, can only produce a limited supply of these unique flavored coffee beans. Due to the limited supply and high demand for Kona coffee, it can be quite expensive.  
Another factor that makes Kona coffee so expensive is production costs.  The price of land in Hawaii is quite expensive, and since it is an island, production materials such as equipment and fertilizers must be shipped in. 
A final factor to consider in high production costs is labor.  Since Hawaii is part of the United States, it must adhere to US federal regulations and minimum wage standards.  Countries like Ethiopia, Colombia, and Kenya who produce a large percentage of the world's coffee supply, can drive down production cost by paying a lower labor wage, giving consumers a less expensive product.
100% Kona Coffee vs. Blends
If you want true Kona flavor, you need to purchase a 100% pure Kona coffee, and that means paying a premium price.  Blends can be a more affordable way to experience Kona coffee, but know that you will not be able to experience the full Kona flavor if you go with a blend.  
Blends can have as little as 10% Kona coffee and still call themselves a "Kona blend" so be wary and read your labels carefully.  Luckily, due to a state law, coffee coming out of Hawaii must be tested and labeled before shipping out of the state, making it easy to identify the percentage of Kona coffee beans in your blend.  
Does Kona coffee come in K-cups?
In a word…yes.  When the Keurig coffee maker hit the market and became a part of mainstream America, several Kona blends were available for these machines, but 100% Kona coffee K-cups were hard to come by.  Now that single serve coffee machines have taken over many of America's kitchens, Kona roasters have begun stepping up to fill the demand for 100% Kona coffee pods.
There are still a lot of Kona blends out there too so be sure to read the packaging carefully to make sure you are getting the coffee you want.
Tips for Using With the Keurig 2.0 Model
When the Keurig 2.0 model came out, a number of brands not associated with Keurig found that their cup design no longer worked in the new Keurig models. The Keurig 2.0 is designed to reject any unlicensed K-cup and many Kona coffee lovers found that their "K-cups" were no longer compatible with the new machines.  There are still K-cups out there that work with the Keurig 2.0 but be sure to read reviews carefully before purchasing.
Luckily, if the Kona roast you love is not compatible with the Keurig 2.0  there are a couple of workarounds.  Pod adapters like the K2V-cup will allow you to use a non-compatible pod in Keurig 2.0 machines.  
Another option is to bypass K-cups altogether and opt for a reusable K-cup filter.  These filters allow you to use any Kona coffee you like in your Keurig.  The K2v-cup is a 2 in one adapter that can meet this purpose as well or you could use a filter such as the Solofill V1 designed specifically for the Keurig Vue.  
Where to Buy Kona Coffee K-cups
Kona blends are easy to find in your local supermarket but if you want a true 100% Kona coffee, you will most likely need to look online…unless you are lucky enough to live in Hawaii near the Kona region. 
While there are a number of online retailers you could search to find the best Kona coffee K-cups, all of the coffees mentioned in this guide can be purchased with the click of a button from Amazon.  And if you have Prime, they can arrive on your doorstep in just a couple of days!
So what IS the best Kona coffee?
Whether you're a coffee connoisseur or just like a good cup in the morning, true Kona coffee is a must-try.  Rare and uniquely delicious, it earns its title as one of the best coffees in the world.  Our favorite of the coffees reviewed here is the Blue Horse Kona Coffee K-cups but each palate prefers something a little different so feel free to experiment.  
Of course a 100% Kona coffee is the only choice if you are looking for a true Kona coffee experience, but if you want Kona flavor without the hefty price tag, we've given you several blends to consider as well.  So grab a cup, take a sip, and travel back to the islands.