What is a Manual Espresso Machine?
>>>Click here to see our favorite
A manual espresso machine, also known as a lever, or piston machine is the device originally used to brew espresso.  Manual machines are piston-driven and require the barista to pump a lever in order to generate the pressure required to pull a shot of espresso. 
Brewing with a manual espresso machine requires precision and focus so they are not for the 'push a button and forget it' types, but pulling your own shot can be quite rewarding if you have the patience.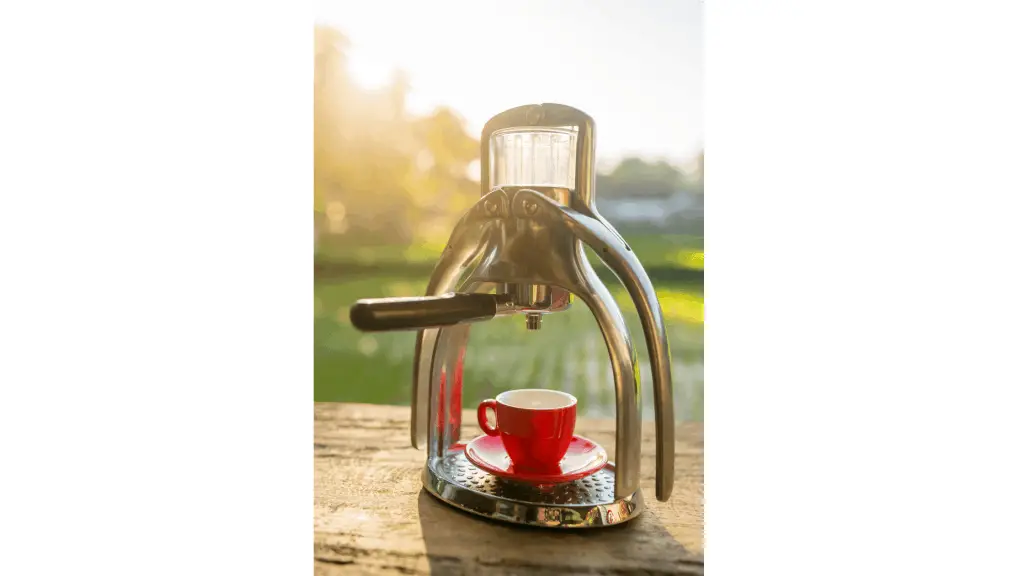 Manual espresso machines fell out of popularity in the 1940s when new technology began to make the brewing process easier and more energy-efficient, but they have been making a comeback among hard-core coffee connoisseurs.
Our Top Picks
Elektra has been manufacturing espresso machines since the 1950s and their modern machines are heavily influenced by their original models. The S1 Micro Casa is a spring-piston machine that is designed to look and function like one of their classic machines while incorporating modern technology and offering safety features such as temperature and pressure gauges. 
It has a built in heater, a steam pressure gauge, and a sight glass that allows you to monitor the water level in the machine. The large boiler and water tank has the capacity to hold 18 shots of espresso and the thermal safety switch will prevent the pressure from getting too high. 
This manual espresso machine will give La Pavoni some serious competition with it's sleek chrome and brass finish and beautiful wooden handles.  
Pros
Spring piston lever
Large boiler 
Pressure gauge monitor
Built-in safety valve
Can brew and steam simultaneously
Cons
Brass finish can tarnish
On the pricey side
The Italian company La Pavoni has been making espresso machines since 1905 and is one of the oldest espresso companies in the world. The EPC-8 Europiccola espresso machine is a fairly basic, but quite durable direct lever machine and one of their most popular models.  
This La Pavoni espresso machine has been updated over the years, but it is essentially the same machine they sold in the 1950s.  Some parts of this machine are plastic (the only downside), but the heating elements are stainless steel and the boiler is made of nickel-plated chrome. 
It has the capacity to hold 8 shots of espresso and comes with everything you need, including a milk frother.  Weighing 14 pounds, it is suitable for home use but not for travel.  Its smaller size, however, makes it perfect for small apartments with limited counter space. 
The Europiccola represents quintessential Italian elegance and with regular cleaning and maintenance, this machine should last for decades.
Pros
Smaller footprint
Heats up quickly
Easy to find replacement parts
Cons
Steep learning curve – not ideal for beginners
Needs to shut down between uses to avoid overheating
Another great La Pavoni espresso machine, the PPG-16 Professional is pretty much an upgraded version of the Europiccola. Like its younger brother, the PPG-16 is a direct lever machine with a pretty steep learning curve so it's not ideal for beginners and even experienced baristas will have to practice to master it.  The final result, however, is totally worth the effort. 
Due to the larger boiler capacity and additional pressure gauge, the price point is closer to that of the Elektra.
The large 38-ounce capacity, allows you to brew up to 16 shots of espresso between refills, and the dual frothing system means you can make a variety of milky espresso drinks.  It even comes with an 'automatic cappuccino' function to froth up the perfect milk foam. The thermostat maintains a steady temperature and is outfitted with a built-in pressure gauge so you can carefully monitor the machine's pressure. 
Like all La Pavoni machines, this one is built to last.  It is made from solid brass, coated with a shiny nickel plating, and features classic wooden handles and knobs. 
Pros
Boiler heats quickly
Dual frothing system
Large water capacity
Built to last
Easy to find replacement parts
Cons
Metal gets pretty hot
On the pricey side
The Flair espresso maker is pretty unique, to say the least.  It kind of reminds you of an over-the-top manual juicer that has been adapted by adding a portafilter.  To be honest, that description is not too far off from reality. 
It was designed in 2016 by a retired Brazilian engineer, and quickly became a phenomenon in the specialty coffee world after being launched by a Kickstarter campaign. The Flair espresso machine operates without the use of any electricity, making it perfect for camping and travel.  It even comes with its own carrying case.  
The machine consists of three main components: the base, a post, and a lever, all of which are constructed from durable stainless steel and cast aluminum that is built to last. 
It may seem a bit odd at first, but the way the machine functions is really quite easy and convenient. After placing your coffee grounds into the machine, you fill the chamber with hot water and secure it above the grounds.  Next, you pull the lever, which forces water through the coffee grounds, producing your shot of espresso.  The downside is you have to assemble the group head every time you brew a shot, but it only takes about a minute and this machine surprisingly brews up a solid espresso shot. 
Pros
Travel friendly
Operates without electricity
Great price
Cons
Not as durable as classic Italian machines
Small parts need to be adjusted
You need a separate heat source
The ROK manual espresso maker is not exactly a 'machine,' but it is a manual espresso maker that brews up a pretty good cup of coffee. 
This portable espresso maker launched in 2021 and makes manual brewing on the go easy.  It has a straightforward, durable design that favors functionality over style.  It is easy to use,  featuring two levers that you push down simultaneously to brew your shot of espresso, and the rubber on the base of the machine prevents it from slipping.  
Similar to the Flair, some coffee aficionados question whether this machine generates sufficient heat and pressure to produce true espresso, but the ROK manual espresso maker can produce a pretty great shot.  While it may not be as good as a classic Italian lever espresso machine, for the price and portability, you can't really go wrong. 
Weighing in at only 4 pounds, the ROK espresso maker is ideal for camping and frequent travel.
Pros
Portable
Easy to use
Durable
Budget Friendly
Cons
Plastic group head
Can only brew single shots
Needs a separate heat source
The Cafflano Kompresso quickly made its place in the specialty coffee world, winning over many espresso fans. Cheap and portable, this unconventional little espresso maker is quite possibly the world's smallest, and it uses no electricity at all. 
This unusual little machine uses a hydraulic system to brew and can reach 9 bars of pressure to extract a rich and full-bodied espresso flavor.  The 80-ml water reservoir is the ideal size to produce a perfect single-serving shot of espresso and since it requires no electricity, you can brew espresso anywhere you have access to a heat source. 
Using it takes quite a bit of work but weighing in at only half a pound, it is perfect for backpacking or stashing away in your travel bag. 
Pros
Lightweight and compact
9 bars of pressure
Easy to clean
Cons
Requires an external heat source
Doesn't produce great crema
This machine is great for campers and travelers but be forewarned, you will need access to hot water.  The Wacaco Nanopresso is an upgraded version of the Minipresso and is a compact machine that allows you to make espresso virtually anywhere.  While the cap can be used as a cup, we recommend you have a reliable travel mug or thermos on hand for easier storage.
You simply scoop ground coffee into the filter-basket, add hot water, and extract a rich espresso by pumping the piston. This portable machine can produce up to 18 bars of pressure and will make just over 2 ounces of espresso.  While this machine uses ground espresso, a capsule adapter can be purchased to accommodate ESE pods.
Pros
Very affordable
Compact
Durable
Produces great crema
Cons
Requires lots of clean up
A lot of work for a single shot of espresso
How does a manual espresso machine work?
Making espresso required a high level of pressure to push water through finely-ground coffee.  In automatic and semiautomatic machines the pressure is built up by the machine itself, however, in a manual espresso machine, the pressure is generated by hand.  These machines, also known as lever or piston machines, require the barista to pump a lever until the machine reaches the 9 bars of pressure required to brew espresso. 
In addition to controlling the pressure, the user must also control every other aspect of the espresso shot such as grinding the coffee, measuring out the exact amount of grounds, and tamping the grinds into the filter basket. 
Brewing with a manual espresso machine requires precision and focus so they are not for everyone, but many home baristas believe that nothing is quite as rewarding as pulling your own espresso shot.
Why is a manual espresso machine so unique?
Manual espresso machines are unique solely because they give the user complete and total control over every aspect of the brewing process. The home barista has full control of grinding of the beans, tamping of the grounds, pumping the lever to build up to the required pressure, and lastly, pulling the shot itself.    
Types of Manual Espresso Machines
If you think all manual espresso machines are the same…think again.  Manual espresso machines can actually be divided into three different types:  the spring piston machine, the direct lever machine, and the hand-pumped machine. 
Spring Piston Machines
A spring piston machine can be identified pretty quickly due to the lever being in an upright position when resting.  
Pushing the lever down activates the spring mechanism and begins the pre-infusion stage of espresso making. The lever is then released to push the piston downward, extracting the espresso.  This may sound simple, but it is very important that you control the lever release, allowing a slow and steady release.  Releasing the lever too quickly will result not only in bad coffee, but you will also be spattered with hot water and ground coffee. 
Direct Lever Machines
Direct lever machines can be identified by the lever being in a downward position when resting. Just as the name implies, you apply direct pressure on the lever to push the water through your finely ground espresso.  
This model gives you maximum control over the extraction process but it requires a fair amount of practice and patience to master. Once mastered though, it will most likely be the best espresso you've ever had. 
Hand Pumped
Hand Pumped espresso machines are newer to the home barista circuit and don't require any electricity or batteries.  Instead, they operate using manual strength and frequently have small and compact designs. Their size makes them perfect for travel or camping and since they are such simple machines, they are typically quite affordable. 
How difficult is it to use?
Manual espresso machines have a reputation for being difficult to use successfully and this reputation is not undeserved.  Just as anything that presents a challenge, mastering it makes it fun.  While brewing a great espresso with a manual machine can be challenging, that factor makes it all the more rewarding.  
The mechanism and how it works are actually quite simple. The learning curve, however, is quite high.  Using a lever machine requires a full understanding of the brewing process in order to produce a great final product. 
It is also important to keep in mind that all lever machines are not made the same.  The design of each manual espresso machine has a lever that is a slightly different size and responds just a little differently.  It is important to pick one machine and stick to it.  Take your time practicing and know full well that your first few shots are most likely going to be sub-par until you get a feel for the machine. 
What to Know Before Buying
Manual espresso machines come with a learning curve, so if you expect to take your new lever machine out of the box and instantly brew up the best espresso you've ever had, think again.
Manual espresso machines are nothing like their automatic or semi-automatic counterparts.  They are neither intuitive nor easy to operate.  Even the most skilled baristas with the best manual espresso machine must pull a few disappointing shots before getting the hang of it.
With a lever machine, the user is completely in charge of every aspect of the coffee extraction and most importantly, the pressure used to extract the shot.  It takes trial and error to learn exactly how much pressure is needed to pull a great shot, and that pressure will vary based on different coffees and roasts. 
If you are intimidated, start with a spring-piston machine, which will make the pressure a little easier to control, and always start with freshly ground coffee beans.  Invest in a good grinder because substandard or pre-ground beans will result in one failure after another. 
Reasons to Use a Manual Espresso Machine
With so many automatic and semi-automatic espresso machines out there that take the guesswork out of espresso-making, why should you invest in a manual espresso machine?
Many espresso aficionados argue that once your technique is perfected, the manual espresso machine will brew the best-tasting espresso.  
Manual espresso machines allow you to control every aspect of the brewing process, and most importantly:  the pressure.  Since you control the pressure used to brew each shot, there is room for variation and experimentation.  
Each coffee variety and roast will reach its optimal flavor and crema at slightly different brew pressures. A lever machine offers you the ability to experiment to find the perfect pressure for each individual shot, giving you the opportunity to explore different flavors and decide which conditions produce your favorite taste. 
Manual espresso machines are also built to last.  The machine's inner workings are so simple, there are few components to malfunction and your investment will last for years, saving you money in the long run. 
Components of a Good Manual Espresso Machine
If you are not careful, purchasing a manual espresso machine can be akin to buying a vintage car.  It is beautiful but needs regular maintenance and may cause a few headaches along the way. 
Since many of these machines are designed by Italian engineers long ago, they can be prone to issues so you should make sure you purchase your machine from a reputable brand and treat it with care.  Purchasing from a reputable brand will also make it much easier to purchase replacement parts down the road. 
Be sure to look at and carefully consider these key features as well.
Water Reservoir
No one wants to have to refill the water tank for each shot of espresso.  Look for a machine that is capable of pulling several shots before a refill is necessary. We suggest going with a machine that has a reservoir that will hold between 20-38 ounces of water. 
Build Materials 
You want your manual espresso machine to be durable and built to stand up to regular usage over time.  Brass is the best material since it wards off both corrosion and bacteria, but stainless steel is the next best thing. Aluminum will wear down faster than the other two build materials mentioned but it does mean the machine will be less expensive.  Just know that if you go with aluminum you will need to replace the machine sooner. 
Type of machine
Give careful consideration to the type of manual espresso machine you want to purchase.  The direct lever machines are less expensive and give you total control over the brewing process.  That said, they are also harder to master.  If you have been brewing up espresso for a while there will still be a learning curve, but you should master it relatively quickly.
If you are a total newbie, looking for a manual espresso machine, you probably want to stick with a spring-piston machine. Spring piston machines are a little more expensive but easier to learn to use.  They deliver a higher and more consistent pressure than direct lever machines, making them more forgiving in general.  After all, investing in a manual espresso machine is pointless if you end up getting frustrated and heading out to your local coffee house anyway. 
Temperature Regulation
According to the Specialty Coffee Association of America, the ideal coffee brewing temperature is between 195℉-205℉, so it is imperative that you ensure your machine can reach that temperature range. While lever machines give you total control over pulling the shot, they offer less precision when it comes to temperature control.  
Other Factors to Consider 
Ease of Use
Some manual espresso machines are easier to use than others.  As we said earlier, spring-piston machines are easier to use in general since they deliver a higher and more consistent pressure than direct lever machines.  Direct lever machines give you maximum control over the extraction process but it requires a fair amount of practice and patience to master. 
Portability 
Portability is a factor that you may or may not care about.  However, if you are a regular traveler or love to spend the weekends camping, you may want to consider bringing your espresso machine along.  
Some manual machines are more portable than others, and some even require no electricity which is perfect for campers and backpackers. 
Price
Manual espresso machines come in a variety of price points.  As mentioned earlier, spring-piston machines tend to be more expensive while manual lever machines are cheaper.  If you want a machine that is going to last, spend as much as you can on a good quality machine.
FAQ
Are manual espresso machines better?
It really depends on your preference and your patience.  Many coffee aficionados claim nothing beats a manually pulled shot of espresso, but mastering that pull takes time, practice, and patience. 
Which espresso machines do Starbucks use?
Starbucks uses a super-automatic espresso machine with built-in grinders and a computerized meu called Masterna.  Masterna was designed exclusively for them by a Swiss company called Thermoplan AG.
What is the best pressure for an espresso machine?
The industry standard is 9 bars of pressure.  Some brands advertise up to 15 bars of pressure,  leading consumers to believe that a higher bar pressure is better, but 9 bars will produce quality espresso. If you use much under 9 bars your espresso will taste bland and watery.
Can you use regular coffee beans for espresso? 
Technically, yes.  The roast level is what makes espresso so special.  The darker roast coffees tend to be very oily.  This oil is what is responsible for producing the rich crema that is unique to espresso. Check out our article on the best coffee beans for espresso. 
What is the best grind for espresso?
Espresso requires a grind that is fine enough to allow the water to push through the filter and produce a rich and thick crema.  If the grind is too coarse, the distinctive crema will not form and if it is too fine, the resulting espresso will taste bitter.  The grind in general should resemble fine sand mixed with powdered sugar. 
Final Thoughts
Coffee in general is a matter of personal preference so there is not one go-to machine that will fit the needs of every individual.  We have given you brief reviews of our favorite machines so you can pick the best manual espresso machine to let your inner barista shine.
Other Articles of Interest
The Best Semi-Automatic Espresso Machines and a Few Fully Automatic Machines Too
Espresso on a Budget – Buying an Espresso Machine That Won't Break the Bank