A gooseneck kettle is something that you don't necessarily NEED to make a great cup of coffee or tea, but they sure do make brewing a lot easier.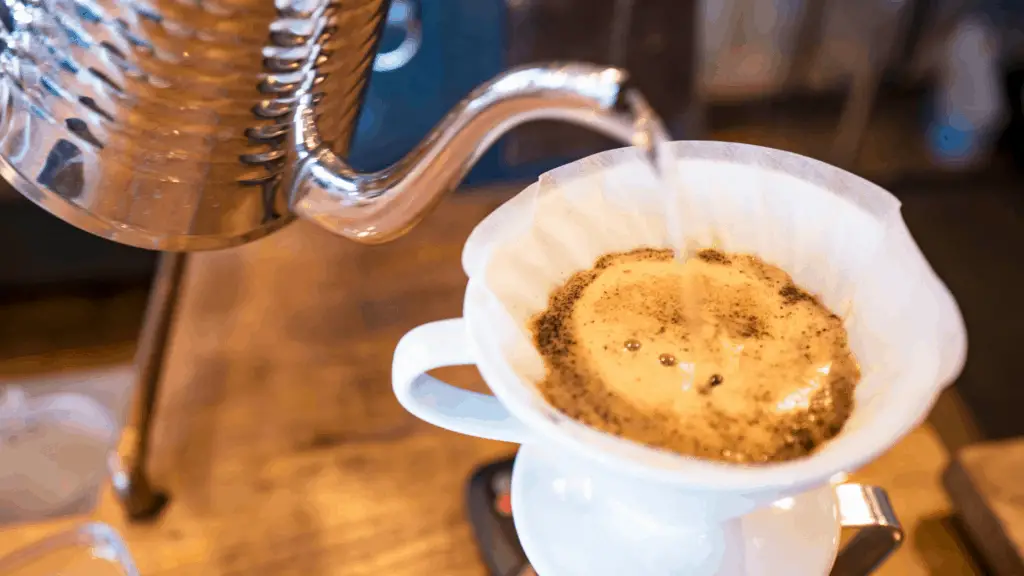 Whether you want a precision pour-over or an amazing cup of tea, we have done all the work for you, so you can find the best gooseneck kettle to brew your perfect cup.
Our Top Picks
What's the big deal about gooseneck kettles? 
I already have a kettle.  Why should I buy another one?  Is a gooseneck kettle worth it?
While it is entirely possible to make a delicious cup of coffee using a standard kettle, a gooseneck kettle will definitely help you up your game.   A great pour-over requires methodical attention to detail.  Gooseneck kettles allow for precision pouring while the heavier flow of a regular kettle can over agitate the coffee grounds and lead to under extraction.
When it comes to pour-over coffee, even extraction is crucial.  A balanced extraction leads to improved flavor and aroma in your cup. To achieve this even extraction requires incremental pouring.  A gooseneck kettle makes this slow, incremental pouring, significantly easier than a regular kettle. 
The Best Gooseneck Kettles for A Great Pour-Over
The Fellow Stagg EKG+ combines modern style with the latest technology to create a product that is hard to beat. This gooseneck kettle with variable temperature control features a matte-black finish and sleek design that is sure to stand out in today's modern kitchen. 
In addition to good looks, this kettle is all about functionality.  The built-in PID based, variable temperature control will suit a wide variety of uses from pour-over coffee, to tea and hot cocoa, to oatmeal. Simply set the temperature between 135℉-212℉, and the Stagg EKG+ will hold your set temperature for up to an hour. A must if you plan on making multiple carafes throughout the morning. 
The smaller .9 liter capacity is ideal for pour-over coffee. The handle has a counter-weight that helps maintain controlled pouring, and the smooth stream creates less agitation of the coffee grounds, resulting in a better-tasting cup. 
Not only can this kettle can maintain its water temperature for up to an hour, but the small LCD screen also displays the current water temperature as well as your set temperature. You can easily change the temperature from Fahrenheit to Celsius with the simple toggle switch located on its base. The Stagg EKG+ also has a built-in stopwatch to aid in timing pour-over coffee, and even comes with Bluetooth integration that works with a smartphone app. 
The only downside to this gooseneck kettle is the price.  It is expensive, but if money is not an issue, you should check it out.
Pros
Stylish
Reliable Temperature
Bluetooth integration
Heats in 3 minutes
Built-in stopwatch
Can be set to Fahrenheit or Celsius
Cons
Smaller capacity
The cord does not store in the base
Expensive
You need two things that can make or break a great pour-over coffee are evenness of pour and water temperature.  The Coffee Gator True Brew addresses both of these factors with its precision-flow spout and built-in temperature gauge. 
The thermometer is attached to the lid and has the optimal coffee brewing temperature of 195℉-205℉ shaded in, to simplify the brewing process. 
The kettle itself is made from medical-grade steel with a triple layer bottom to prevent rust. It also comes with a sturdy, ergonomic handle that is easy to maneuver and stays cool to the touch. 
The Coffee Gator True Brew is the perfect choice for a budget-minded consumer looking for a quality stovetop kettle. The only downside is the size.  While this is a 1-liter kettle, the instructions clearly state that it should not be filled more than halfway. If you only need to brew one cup of coffee, the size should not be an issue but if you are brewing for a few people, you may want to consider a different option. 
Pros
Affordable
Built-in temperature gauge
Removable silicone Jacket
Cons
Small size
Difficult to clean
Bodum is well known for its french presses, and more recently its pour-over coffee makers, so it's only natural that they would manufacture a gooseneck kettle to use with their non-electric brewers. 
This electric kettle is one of the fastest on our list.  Simply press the power switch and you will have piping hot water in 2-3 minutes.
The Bodum gooseneck kettle features a handle and lid knob made from sustainable cork.  The cork makes the handle very comfortable to hold while pouring. 
Electric kettles are usually on the pricy side but the Bodum Melnoir is on par with the average stovetop kettle and is a great option for those new to gooseneck kettles who don't want to make a big investment. 
The only downsides are that it is on the smaller side, holding only 27 ounces of water and it contains plastic components, which tend to break down faster.  It also doesn't come with a built-in thermometer but that is easy to remedy with a separate thermometer. 
Pros
Affordable
Easy to use
Fast heating
Cons
No temperature gauge
Smaller capacity
The Barista Warrior pour-over coffee kettle was designed to help brew barista-quality coffee at home. Its sleek design comes in both surgical grade stainless steel and copper coated stainless steel.  If you intend on using the kettle with a gas burner, the manufacturer recommends the stainless steel over the copper-coated version. 
Its gooseneck has smooth water flow and the ergonomic handle offers optimal control to aid in consistent coffee extraction. Be forewarned, though the handle is heat resistant, it can get hot toward the top. 
The kettle is one of the larger ones on our list with a 1.2-liter capacity but the manufacturer recommends only filling it to 1 liter for optimal usage. 
It comes with a built-in thermometer that has the optimal brewing temperature marked for foolproof heating and has a double-layered bottom to prevent rusting. 
The Barista Warrior can be used on both gas and electric, as well as, induction, halogen, and radiant stovetops making it perfect no matter what your heating source.
Pros
Large capacity
Built-in thermometer
Cons
Plastic on the thermometer can melt if the burner is too high
The handle can get hot
This Bonavita gooseneck kettle is a great fit for the home barista how highly prizes convenience and accuracy.
The PID based, variable temperature control, allows you to set the desired temperature between 140℉-212℉ and the temperature display allows you to see the exact temperature as it heats. 
The kettle has a smooth water flow and the ergonomically designed handle allows you to make micro pouring adjustments with ease.
Once hot, the kettle can maintain its current water temperature for up to an hour, which means there is no need to reheat the kettle if you want a second cup of coffee. If you prefer to brew a lot of coffee, the Bonavita also comes in a larger 1.7-liter size. 
Many users find the 20-inch cord frustratingly short but overall this is a great kettle. 
Pros
Great temperature control 
Easy to use
Stays hot for up to an hour
Sturdy handle
The COSORI electric gooseneck kettle is a less expensive kettle with a modern design. 
The sleek matte black finish stands out in modern kitchens and its ease of use makes it a favorite among many. 
The stainless steel COSORI comes with a precision pour spout specifically designed to provide the optimal pour-over flow rate and the counterbalanced handle allows for a more comfortable pour. 
This kettle does not give you the same amount of temperature control as most of the others on our list.  While you can't program the kettle by single degrees, you can still select from five preset temperatures.  
Each preset temperature is labeled with its ideal beverage.  If you prefer green tea, simply select the 180℉ button, or if coffee is your beverage of choice, press the 205℉ button and sit back and relax.  The kettle will emit a soft beep to let you know when the water has reached your ideal temperature.  The beep is loud enough to hear but soft enough not to wake up the rest of the house.  The sound can also be easily disabled by pressing the "Hold Temp" button for 8 seconds. 
The COSORI also features British STRIX thermostat technology that will automatically shut-off after the water reaches your desired temperature, and the boil-dry safety feature will turn the kettle off if it detects there is no water inside. 
Once heated, the kettle has a keep warm feature that will automatically keep your water at optimal temperature for up to an hour. 
At only a 26 ounce capacity, this kettle is on the smaller size but its simplicity makes it a favorite, especially among tea drinkers. 
Pros
Sleek design
Easy to use
Maintains temperature for up to an hour
Beep when ready
Cons
Preset temperatures only
Takes up to 5 minutes to heat
Small capacity
OXO is a well-known brand, offering kitchenware, houseware, and office supplies.  This pour-over gooseneck kettle is one of the many products in their trusted line. Like all of their products, the OXO gooseneck kettle combines modern style and function all in one sleek package. 
This stainless steel kettle can hold up to one liter of water and can heat in as little as 4 minutes thanks to its 1500 watt heating system. 
The intuitive temperature control can be adjusted in one degree increments, and has a heating range of 140℉-212℉.  It also features a timer that allows you to time each pour for the perfect cup. 
The auto-hold feature will maintain the current water temperature up to 30 minutes and will automatically shut off afterward. 
The well-balanced handle has the same soft grip used on all of OXO's products, and allows you to maintain control of the kettle without running the risk of getting burned. 
Pros
Accurate temperature control
Built-in timer
360-degree swivel base
Stay warm feature
Cons
Must fill to the max fill line for consistent heating
No beep to let you know the kettle is ready
For years, baristas and home brewers both considered the Hario Buono to be the only serious option out there.  Think of it as "the original" gooseneck kettle.  This beautiful kettle has a beehive design that has the same curvy elegance as most of the popular Hario products.
It offers a large 1.2 liter capacity, while still being light enough for a well controlled pour-over. While this larger size may seem excessive to some, it is ideal for those looking to brew for several people at once.  They also offer a 1 liter model if the larger size is too much for your home. 
This gooseneck kettle offers optimal control when pouring, but the flow rate is a bit faster than some newer kettles. 
This kettle is a classic for a reason. It may not be as fancy as some of the newer models, but it is a quality kettle that gets the job done. 
Pros
Sleek, modern design
Consistent water flow
Can be used on electric, gas, or induction stovetops
Cons
No built-in thermometer
Doesn't maintain temperature very long
Ovalware's RJ3 gooseneck kettle is a relative newcomer that has made its mark in pour-over coffee circles.
The sleek and elegant stainless steel design fits perfectly into modern and traditional kitchen alike.
The angled handle allows complete control when pouring, and the angled gooseneck allows the hot water to smoothly flow in a steady stream. In short, this kettle creates the perfect pour no matter how fast or slow you prefer. 
While it lacks the bells and whistles some of the other kettles on our list have, this is a quality budget option for those trying out pour-over coffee for the first time. 
Pros
Slower flow rate for controlled pouring
Comfortable handle
Easy to clean
Cons
No built-in thermometer
Only one size available
The Wave is one of Kalita's most popular gooseneck kettles. The design of this kettle is simple, accented with wooden details that make it stand out. 
This kettle doesn't come with all the added features some of the other kettles on our list have.  Its primary selling points are its design and well delivered pour. 
Compared to most of its competitors, the Kalita Wave has a significantly stouter gooseneck, which allows the home barista to easily maintain stronger flow rates.  A slower pour can be achieved, but it will take a little practice to get the hang of it. 
The wooden handle is a nice touch since many kettles have moved to plastic handles to cut down on manufacturing costs.  This kettle is however, a little on the pricey side but if money is not an option and you prefer a stovetop model, the aesthetic may be worth the money.
Pros
Fast, even pour
Stylish design
1 liter capacity
If you love pour-over coffee but also appreciate the convenience of a programmable drip coffee maker, the Brewista Artisan Variable Temperature Kettle may be the best gooseneck kettle for you. 
This is an electric kettle that can be programmed to start automatically, and it will even automatically shut off after an hour. You will never have to worry again about your kettle running dry because you forgot to turn it off. 
The Brewista has one degree temperature accuracy, meaning you can set the temperature in one degree increments at the touch of a button.  The easy to read digital screen ensures that your selected temperature is exact.   
On the larger side, this kettle takes around 5-6 minutes on average to heat up, but it will maintain the selected temperature for up to an hour.  I must have if you are prone to hitting the snooze button or want to come back for a second (or third) cup. 
The stainless steel build has a sturdy feel, a comfortable handle, and the precision of the flow rate is excellent.  
While the Barista runs on the pricey side, it is one of the best gooseneck kettles for the serious home barista.
Pros
Digital control panel with 1 degree temperature increments
Programmable
Automatic shutoff 
Cons
Takes 5-6 minutes to heat up
A bit pricey
The Willow &  Everett is a simple electric gooseneck kettle that boils water and shuts off automatically. Its design is more minimalistic and the mirror finish offers a different look than the typical brushed-stainless steel construction. 
The 1000 watt heating element makes for quick heating but you will need to use your own thermometer to make sure your water is at the optimal brewing temperature.  It is also missing the keep warm feature that you can find on pricier models. 
The angle of the handle makes it both comfortable and functional for extended pouring and thanks to its spill-proof lid, there is no need to worry about water gushing out during slower pours.  Some consumers have reported that the lid can be cumbersome to remove but we will happily  take that over getting burned by leaking water.
In short, this kettle offers stainless steel construction,  precise water flow, and an automatic shut off feature, all at a great price point. 
Pros
Smooth and controlled pouring
1 liter capacity
Quick heating
Cons
No temperature control or thermometer
Lid can be difficult to remove
What to look for in a Gooseneck Kettle
These quirky little kettles are the tool of choice for hipsters and coffee connoisseurs everywhere, so it is absolutely acceptable to want nothing but the best gooseneck kettle.  The best gooseneck kettle is going to be a little different for everyone though so let's take a look at some of the details you should consider before shopping.
Electric or Stovetop
We have had several people ask: Can you put a gooseneck kettle on the stovetop?  The answer is yes…that is IF it is a stovetop kettle.
Gooseneck kettles come in two options; stovetop or electric. Deciding which type you would prefer is the first place to start narrowing down your options. 
Electric
Electric kettles are definitely convenient and often come with more features.  The downside is that they are also usually larger and more expensive.  Both of these are factors to consider if you have limited counter space or are on a budget. 
You should also consider how you typically use your kettle.  Gooseneck kettles also have a significantly slower flow rate than traditional kettles.  If you already have an electric kettle that you use for other things as well, the increased pour time may become frustrating.  Your best bet may be to keep your current kettle and buy a less expensive stovetop gooseneck kettle instead. 
Stovetop
Stovetop kettles tend to be less expensive and are typically smaller and simpler in design. While they do not come with all the added features you can find on some electric kettles, some individuals enjoy the ritual of heating a kettle manually to create their morning brew. 
Flow Rate
The flow rate of a gooseneck kettle can vary greatly.  Some kettles pour very slowly, while others are more responsive to subtle shifts.  Keep in mind that anytime you are using a manual brewing method, it can quickly fall victim to human error. 
You don't want a gooseneck kettle that pours too fast, but the most important factor to consider in pouring is consistency. Your primary goal is to achieve an even extraction of the coffee itself.  A kettle with a smooth and even flow rate is critical in pour-over brewing. 
Does it have a thermometer?
Some kettles come with a built-in thermometer. Electric models can even target specific temperatures which are ideal if you want to brew at the Specialty Coffee Association of America's recommended temperatures or if you what to explore different pour-over recipes. 
Material and Design
Gooseneck kettles are made of metal and are used to boil water.  Combining metal and water over time can result in rust…and that will quickly ruin your perfect cup of coffee. 
Try to avoid very cheap kettles that are built with inferior metals. A very low pricepoint typically comes with quick wear and tear such as rust and cracking along joints. 
The same goes for the overuse of plastic components.  Basically, if the price seems too good to be true, it probably is. 
Comfort
While we are talking about design, let's talk about comfort.  Yes, that right…comfort. 
You are going to be holding this kettle over your brewer and away from your body for several minutes each time you brew a cup.  This gradual pouring, in repeated increments, is something to keep in mind when shopping.  
It is important tome make sure your kettle is going to be comfortable to hold.  Some kettles are aesthetically pleasing but impractical for actual use.  A pretty handle may look nice but you are going to hate it if it is uncomfortable or difficult to use. 
Capacity
It is important to keep in mind how much coffee you typically drink.  The majority of gooseneck kettles used to hold around one liter.  However, due to their rise in popularity, you can now find kettles in all shapes and sizes. 
If you plan on using your gooseneck kettle to make a single cup of coffee or tea, you may not want to purchase a large kettle that will take up much-valued counter space. However, if you regularly brew a large french press or use a large pour-over coffee maker when entertaining, a larger kettle will allow you to easily brew your desired amount of coffee without waiting on a second kettle to boil. 
What is your budget?
The price of gooseneck kettles varies greatly.  You can find kettles anywhere from $10 – $200.  We suggest you avoid the lower end of this range.  If the price seems too good to be true, it probably is.  Gooseneck kettles on the extreme low end tend to break relatively quickly and end up in the landfill.  
That said, you certainly don't have to purchase a kettle on the upper end either.  Kettles on the upper end of this price spectrum are typically electric kettles with lots of added features.  If you have the money and want all the extra features, go for it!  However, you should be able to find a quality kettle somewhere in the middle too. 
Extra Features
Let's talk about those extra features. One feature that makes brewing pour-over coffee pretty much foolproof is a kettle with a variable temperature control.  The variable temperature control feature allows you to set the exact temperature to which you would like the water heated. It maintains that temperature throughout your pour-over, resulting in a noticeably better tasting brew.
A second feature that is nice to have is a built-in temperature gauge. These gauges are typically probe thermometers attached to the kettle's lid.  They are a convenient add on that eliminates the need for post-boil temperature reduction.
How To Clean Your Gooseneck Kettle
But I'm only boiling water, why do I need to clean my kettle? Unfortunately, over time, limescale will begin to build up in the kettle.  Small mineral deposits can begin to flake off leaving tiny floating chunks in your brew.  If never cleaned, limescale can build up so severely that the gooseneck of the kettle can become blocked completely. You can minimize the build-up by using filtered water, but a good cleaning every now and then will make your coffee taste better and your kettle last longer. Don't worry, it's easy. 
What you need:
White Vinegar or Lemon Juice
A bottle brush that fits inside the neck of the kettle
How to do the actual cleaning:
Fill the kettle with equal parts white vinegar (or lemon juice) and water.
Allow the kettle to sit for an hour.
After an hour, boil the kettle just like you would to make coffee or tea.
Empty the kettle and use the brush to loosen any remaining debris from the neck of the kettle. 
Rinse thoroughly.
What is pour-over coffee brewing?
Pour-over brewing is a manual coffee brewing process that involves pouring hot water over freshly ground coffee, through a filter, and into a cup or carafe.  
The process is entirely manual and takes considerably more time than traditional drip coffee. In addition to the extra time, pour-over coffee brewing requires close attention to details and doesn't yield a large brew. 
Why is it the best way to brew coffee?
Primarily, it is because it produces a superior cup of coffee to other brewing methods. 
The slow and controlled pouring of the hot water allows for better overall flavor extraction. Pour-over brewing brings out subtle flavor notes and nuances of the coffee that often get lost in traditional drip brewing. 
These factors alone make pour-over brewing the method of choice for many coffee connoisseurs.
What is the point of a gooseneck kettle? Why should I use one?
One word: Precision.
The main reason hipster baristas everywhere prefer to use a gooseneck kettle is the precise control it gives you over the brewing process.
In the perfect pour-over coffee you first select the perfect beans, grind size, and water temperature.  Next, you begin to pour the water over the grounds.  A gooseneck kettle allows you to precisely control the amount of water that makes contact with the grounds, where it hits the grounds, and how long it remains in contact with the coffee grounds. 
The gooseneck kettle is specifically designed to maximize your control over the water volume and placement, and this fine-tuned precision simply isn't going to happen using a regular kettle. 
How To Brew Pour-over Coffee With Your Gooseneck Kettle
Bring at least 20 ounces of water to a boil
Place a filter into the pour-over dripper and pour a little water into the dripper to pre-wet the filter (be sure to discard the water before brewing)
Add 3 tablespoons of coarsely ground coffee to the filter (freshly ground is best)
Gently tap the grounds to level the surface and place the carafe or cup onto a digital scale
Set the scale to zero
Start a timer and begin slowly pouring the water over the coffee, starting at the outer rim and moving in a steady spiral toward the center of the grounds.  Pour until the scale reaches 60 grams, making sure all of the grounds are saturated. 
Wait 30 seconds to allow the coffee to bloom. 
Starting in the center of the grounds, pour in a steady spiral, this time toward the outer edge, and then back to the center adding approximately 90 more grams of water for a total of 150 grams. 
Allow to sit 45-60 seconds. 
Add another 100 grams of water using the same pouring pattern as in step 8
Once all of the water has dripped from the filter, complete one last pour of 100 grams.  Your final pour should take approximately 20 seconds and bring your total to 350 grams.
Final Verdict
So, what is the best gooseneck kettle?  If money were no object, we love the Fellow Stagg EKG+. It's added features and Bluetooth connectivity can't be matched, but the Brewista Artisan comes in at a close second. The Artisan offers many of the features of the EKG+ but at half the price, earning it our top pick.
Read next: Best Ground Coffee for French Press Brewing